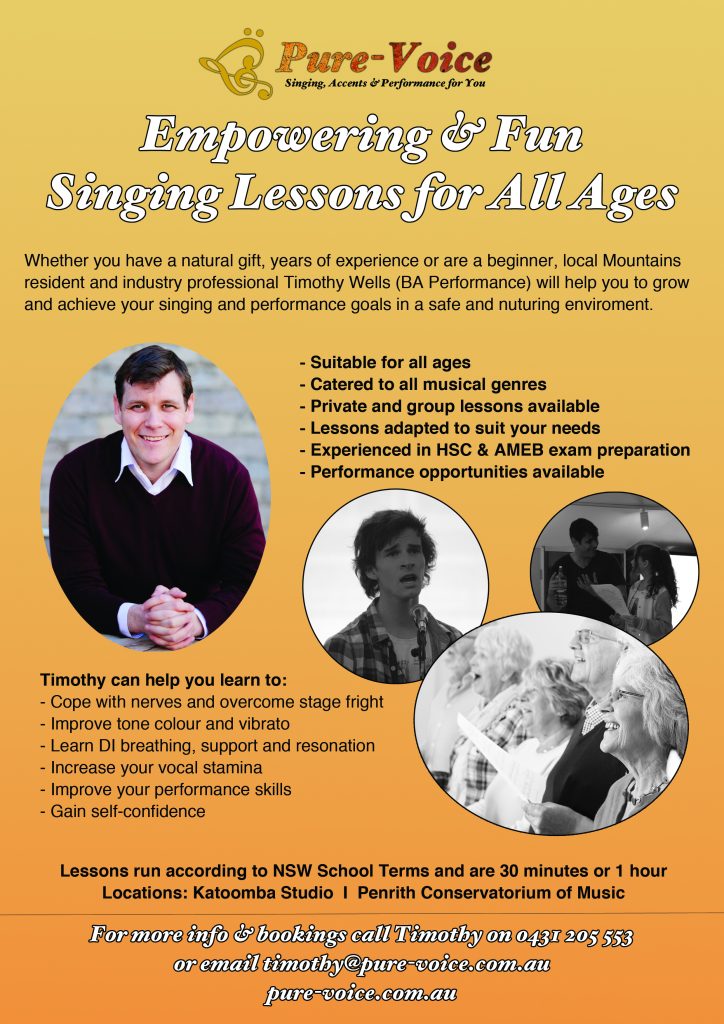 Timothy started his professional career in the performing arts industry at the age of 8. Since completing a Bachelor of Creative Arts (Drama Performance), he has worked in all aspects of theatre including drama, singing, musical theatre and dialects. His true passion is in nurturing the creative and performing arts skills of others.
With the pedagogy of "tension being the enemy" for performers, Tim approaches voice training by "breaking down the elements of voice into 5 categories – instigation, vibration, support, resonation and emotion. I work with students of all genders and age groups from bass to soprano to release the tension and achieve their performing goals."
Having taught for over 11 years he has been successful in supporting his students gain scholarships, prepare for University entrance and professional auditions, achieve excellent results in AMEB and HSC exams and be selected for the NSW Board of Studies Encore program. Tim caters his students needs and musical styles. He is at home teaching contemporary, rock, blues, jazz, classical and musical theatre.
---
"…thank you for your amazing teaching skills and constant support. You have helped me grow and become the confident woman I am today." – Clare (Penrith Conservatorium Scholarship Recipient, 2021).
---
" Thank you for being the best teacher and friend anyone could ever ask for. Looking forward to many more memories to come…" Oliver (scholarship recipiant 2021)
---
Tim's teaching credits include founding director or 3 Sisters Youth Theatre, Roving Reporters Acting and Camera workshop for Riverside's Spot On Children's Festival, Excelsior University, Katoomba Theatre Company, Australian Children's Choir, Q Theatre and Flanno Festival. He has also taught internationally at Kuala Lumpur Performing Arts Centre, Blu Brick Speech & Drama, SIB KL Productions and in the Malaysian school system.
Over the years he has worked or performed with numerous Australian greats including Mariette Rups-Donnelly, Shelley Dettmar, Deborah Wells, Tony Taylor, Christa Leiman, Ron Stevens and Raymond MacDonald.
Tim employs his wealth of knowledge and experience in the performing arts industry in teaching his students. Highlights in his career have included starring in productions of Into the Woods, Steven Schwartz's Children of Eden, Hot Mikado, Talking With, Hating Alison Ashley, Cardboard Box and Popular Mechanicals (Nominated for a Sydney Theatre Award).
Dates and Times
Term 3 Mon 18th July – Sat 24th Sept
Term 4 : Mon 10th Oct – Sat 10th Dec
VENUES
Penrith Conservatorium, The Joan, High Street, Penrith
Katoomba Studio, Letitia Street, Katoomba